CFESA Info and Upcoming Events
CFESA Insider Conference Edition 2022
CFESA Region 5 & 6 Meeting
CFESA Regional Meetings: Region 5 & 6 – Jersey City, NJ 10/18/22. Our Region 5 & 6 meeting is being hosted by Henny Penny, and K&D Factory Service, Inc. Lunch is being sponsored by Aquant. Registration is free for both members and non-members. Keep an eye out! Information regarding topics and meeting location will be released soon. 
CFESA Benefit of the Month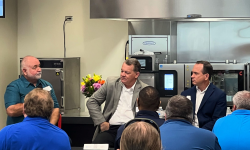 Did you know that CFESA Regional Meetings are free to attend for members and non-members alike? Click the link below to see which Meetings will be taking place during the coming months.
CFESA Learning Series Part 6: Introduction
INTRODUCTION –
As a frequent speaker at events like our dearly beloved CFESA conferences, I have seen both the amazing and the less-than-amazing results that come from conferences.  Businesses invest time and money into sending their teams to conferences such as ours, with the intent of their teams coming back more connected and better educated about industry trends to make the business thrive.  Unfortunately, some attendees do not take full advantage of the educational opportunities.  In the same sense, often presenters are not there to ensure their audience comes away with actionable content to make the investment successful. Both are critical to the successful investment. This month, Missy Emler, founder of Modern Learners, LLC. Shares the importance of a path to impact. As an industry expert in learning for several decades, Missy's article opens our eyes to what the fore core human agencies are and how they create the path to impact. With this knowledge, we are better able to learn. Missy is well-known in education circles for her quote, "I'm not asking you to change. I am asking you to learn."  Within these words, we can see how the power of that perspective can apply to our industry as we evolve for the next generation and beyond. In preparation for our upcoming conference, the CFESA Education Committee found value in sharing her previously published article on this topic so that we can all be better prepared to gain as much as is possible at this event. If you haven't registered, please do so and if you are already registered, we are looking forward to seeing you there.
BIO: Jennifer Davis, has been a passionate advocate for the trades and in her work with the CFESA organization throughout her 33-year career as the Co-Founder, and former CEO of Davisware, a global technology software company, strategically focused on operational efficiency and analytics solutions in field services businesses. Since stepping down as CEO in January 2020, Jennifer has become an Amazon best-selling author of her book Living Exponentially: Unlocking the Power of Every Moment in Your Business and Life. Her book shares her passion for excellence in business without losing joy in life. It is the blueprint for the Davis' successes in business while continuing to be community activists and parents to their ten children. She currently serves in board roles on Davisware, LLC., Hero Hauler, and, most notably, the United Nations for Woman USA, serving as the treasurer.
Melissa Emler
Founder and Chief Learning Officer of Modern Learners, LLC., Potosi, Wisconsin
I often ask people about the impact of their most recent professional learning experience. Then I ask them to describe the most impactful learning experience they have ever had. The dialogue that ensues is lively and filled with smiles and often laughter. However, when asked how often people experience impactful learning, the smiles fade and the grumbling begins.
Professional learning is not often synonymous with impactful.
We can change that.
BIO: Melissa Emler, Founder and Chief Learning Officer of Modern Learners, LLC., Potosi, Wisconsin, has served in a variety of roles throughout her extensive career in education: special education teacher, principal, Statewide Systems Coach for Universal Design for Learning before her decision to make a broader impact on education and found Modern Learners, LLC. In the hopes of creating purpose driven communities and events that allow members to grow, change and learn. She knows that connections provide opportunities to learn more and learning more together builds community, where sustainable impact and momentum create movements and change the world around us. She and her husband, Chad, are parents to three children.
Technician Certifications August 2022
Clark Service Group
Coastline Cooling LLC
Commercial Appliance Service Inc
Core Mechanical
DRD Repair
Elmer Schultz Services Inc
General Parts Group
Hagar Restaurant Service
Jenson Refrigeration Inc
Parts Town
Sam Service Inc
Smart Care Equipment Solutions
Vanquish Worldwide
Whaley Food Service
Upcoming CFESA Training Courses