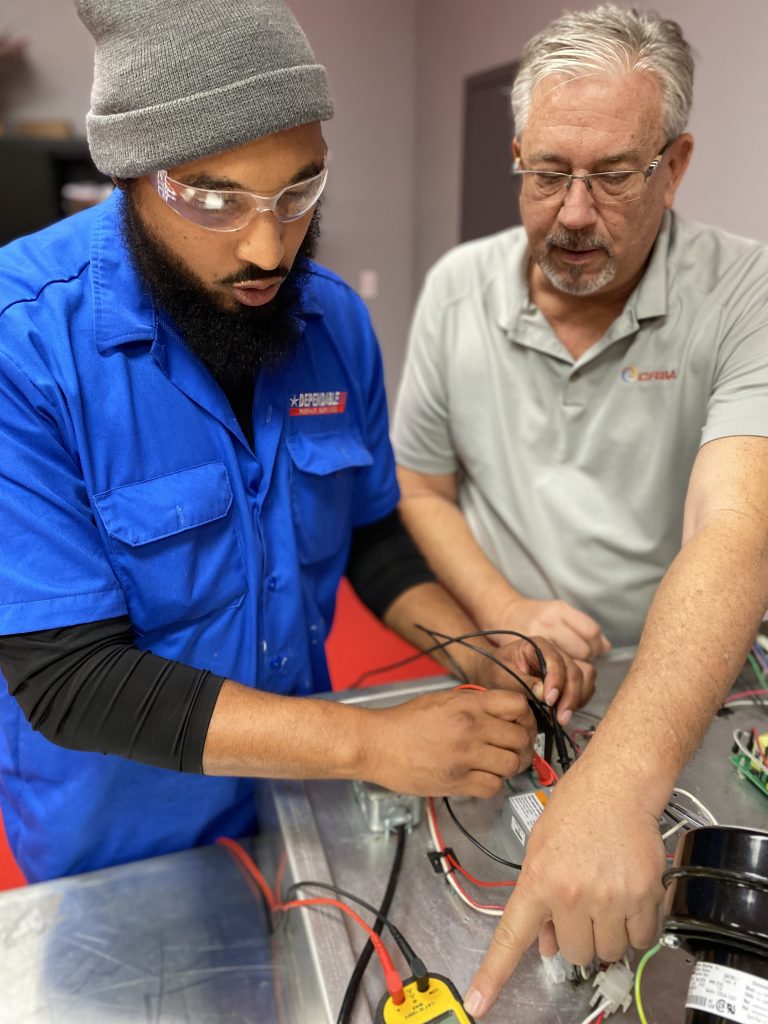 TECHNICIAN TRAINING CLASSES
CFESA sets the Standard for Service Excellence. One of the ways we achieve excellence is through our custom designed continuing education and training programs.
CFESA has developed five extensive training programs for foodservice equipment technicians.
Our technician training programs cover the basic elements of gas, electric, steam, water and refrigeration. All CFESA technician training programs include classroom and hands-on education, and testing on the ability to identify, troubleshoot and repair problems on many types of equipment. Hands-on training is provided utilizing our custom designed modules in addition to the equipment our manufacturer partners donate for our use in training sessions. The flexibility of having our own training facility equipped with 4 training kitchens allows us to ensure that the students receive the essential live hands-on time needed with the equipment.
September 14, 2020 - October 19, 2020




8:00 am - 5:00 pm
The EGS&W course focus is hands-on troubleshooting. This course is designed for the technician that has worked in the field for 2 years or less or needs a confidence boost to work independently. Technicians must be familiar with electric, gas, and steam theory as well as possess basic mechanical aptitude. Course Cost = $750 for (more…)
September 29, 2020 - October 2, 2020




10:30 am - 1:00 pm
CFESA's Operational Management & Owner Seminar
Course Cost = $750 for CFESA Members and $1500 for Non CFESA Members
This two-day course is designed to expand the skill-set of operational management and owners of food service repair companies. The focus is on company growth, industry relationships, and internal structure.
October 5, 2020 - October 9, 2020




8:00 am - 5:00 pm
This is a specialized training course designed for those looking to enter, or recently hired into the foodservice equipment repair industry. The candidates for this training will have little to no knowledge or skill set of the industry. This five-day class will act as the spring board of their career. The training will consist of (more…)
October 12, 2020 - October 16, 2020




8:00 am - 3:30 pm
Management Level 1 training is a three-day course specifically designed to assist managers in their daily activities from planning to completion. This course is available to any type of manager within the food service repair industry. The class focuses on the daily operations of the commercial kitchen repair industry as well as customer service and (more…)
October 19, 2020 - October 24, 2020




8:00 am - 4:30 pm
The EGS&W course focus is hands-on troubleshooting. This course is designed for the technician that has worked in the field for 2 years or less or needs a confidence boost to work independently. Technicians must be familiar with electric, gas, and steam theory as well as possess basic mechanical aptitude. Course Cost = $750 for (more…)
November 9, 2020 - November 14, 2020




8:00 am - 4:30 pm
The EGS&W course focus is hands-on troubleshooting. This course is designed for the technician that has worked in the field for 2 years or less or needs a confidence boost to work independently. Technicians must be familiar with electric, gas, and steam theory as well as possess basic mechanical aptitude. Course Cost = $750 for (more…)