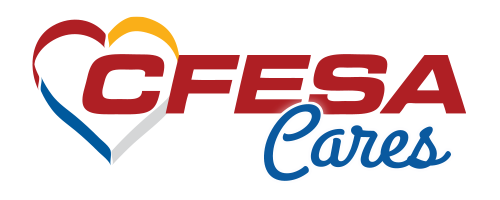 The CFESA Service Heroes/Support Heroes Scholarship Program
CFESA Cares Mission Statement:
Providing support and resources to inspire and educate those servicing commercial food equipment.
Thank you to all that applied for the 2023 Spring Scholarships. Our 2023 Fall Scholarships will open on September 1st!
CFESA invites eligible applicants to compete for scholarships to provide educational opportunities to pursue a career in the commercial food equipment service industry.
CFESA will award a $2,500 scholarship for use towards tuition, fees, and educational materials during the 2023-2024 academic calendar year. 
If selected for either the Service Heroes Scholarship or the Foodservice Equipment Community Scholarship, the winner will also receive a $1,500 Klein Tool bonus sponsored by AllPoints.
Applicants must be 17 years of age or older to apply
Applicants must have obtained or currently working on obtaining a high school diploma or equivalent.
Applicants should be employed in the industry or interested in pursuing a career as a commercial food service technician (Service Heroes Scholarship) or as a support role in the commercial food service industry (Support Heroes Scholarship).
Highly motivated
Customer Service Driven
Forward-thinking self-starter
The desire for learning and growth
Displays communication skills
Exhibits initiative and leadership qualities
Service-oriented through outside activities and interests
 Applications Deadline:
September 1st, 2023 – December 1st, 2023.
*You must answer all questions in total to be considered.
*If selected, you agree to be interviewed and give CFESA permission to use that interview, or portions of that interview, for promotional use.
Technicians are a vital part of our industry – they keep kitchens up and running. However, entire teams are supporting them in the background that are so important, too! The committee has decided to give one scholarship per term to a support staff member to give them the resources to further develop their careers.
*We are now offering two $2500 scholarships, the Service Heroes Scholarship and the Foodservice Equipment Community Scholarship for technicians (with the $1500 AllPoints sponsored tools bonus) and one $2500 Support Heroes Scholarship for the support staff per term.
Thank you, Auston Mealer's Restaurant Equipment Service, Davisware, EMR – Electric Motor Repair Company, Roopairs Technologies, Inc., and Windy City Equipment for Sponsoring the Foodservice Equipment Community Scholarship!
Hear From A Former Scholarship Winner Below: